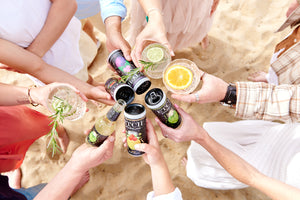 Alcohol free drinks
celebrating Australian native ingredients
ETCH = EVERY TIME CHOOSE HEALTH
ETCH Sparkling is a range of alcohol-free sparkling beverages crafted using Australian native ingredients, showcasing the true taste of Australia.
An Australian non-alcoholic drink option providing delicious, healthier-for-you beverages for social inclusion.
ETCH is all about family, fun and fitting in during any social occasion.
Inclusive drinks for all occasions
SHOP THE ETCH BEST SELLING ALCOHOL-FREE DRINKS
ETCH Sparkling alcohol-free drinks featured in
Join our happy customers
Don't take our word for it
★★★★★

ZST - Finger Lime / Lemon Myrtle

My partner takes ETCH
to his parents house so they don't hassle him to drink with them.
They are very refreshing and have a lovely aftertaste
★★★★★

PLM - Davidson Plum, Riberry & Strawberry Gum

A subtle, nicely fizzy drop. This is an adult drink to enjoy when
you're not feeling like a wine, and definitely not
feeling like a coke
★★★★★

ZST Finger Lime Lemon Myrtle

I'm in LOVE!
 ZST is my new favourite drink.  My only challenge is how do I stop
the kids from drinking them all?
★★★★★

RNG - Orange & Quandong

I just discovered this brand by accident at my local IGA (Taren Point)...
currently sipping on the Orange and Quandong flavour. Out of this world. Love
it
★★★★★

Taking ETCH to a party allows me to enjoy a special beverage and 'fit in' while staying true to my values of maintaining sobriety.

No hangovers for almost 4 years here!

I'll cheers an ETCH to that
★★★★★

It's perfect to take to any social event. It's nice to feel included at events like drinks with friends but having an ETCH means no awkward conversations about why I'm not drinking alcohol.